By Kimber Myers
LA Times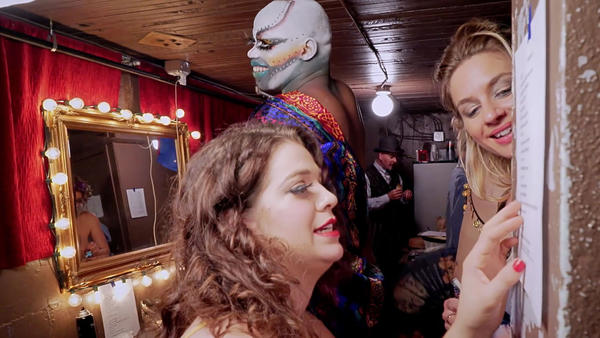 Babs Jamboree, left, Isaiah Esquire and Kimberly Yannariello in the documentary "Burlesque: Heart of the Glitter Tribe." (XLrator Media)
As an introduction to a subculture, "Burlesque: Heart of the Glitter Tribe" goes beyond the sparkles and sequins to show the many varieties of burlesque. This documentary primarily follows four performers who offer different facets of the art form.Zora von Pavonine is a dedicated artist who devotes time and money to perfecting her costumes and craft. Isaiah Esquire's work onstage allows him to blossom and grow in a way the shy, tall man couldn't before. Babs Jamboree leans into the comedic aspect, dressing up as everything from a reverse mermaid to a burrito. Angelique DeVil expresses herself through a variety of personas, including using a Jesus puppet.
As performers, they're often enjoyable to watch, and interviews reveal who they are offstage. There's real talent here, whether in more traditional dance, breathing fire or creatively raunchy puppetry. Director Jon Manning explores the performance art beyond its titillating reputation.
Where "Burlesque" could do better is in showing the connections among the people it chronicles. Many of the performers share a stage or a dressing room, and they're called a "tribe" in the title, but their stories never fully coalesce. At just 76 minutes, the documentary could also reveal more of its stars' lives and work. It's surprisingly intimate at times, but we leave without greater insight into its subjects' world.